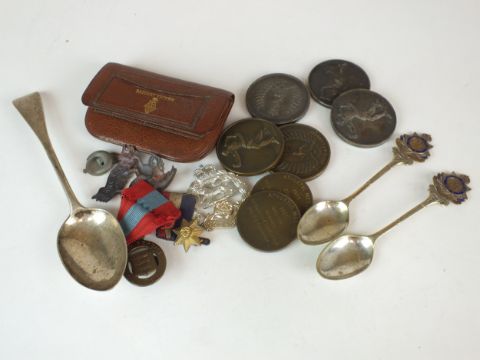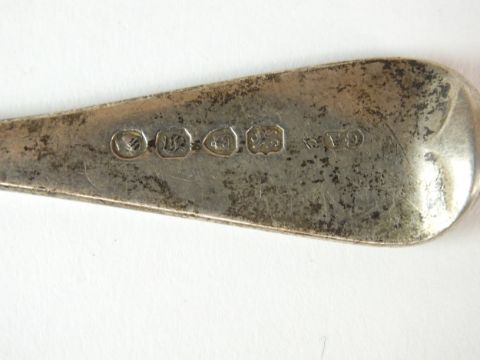 Click on the image to see full size
Use mouse wheel or two fingers to zoom in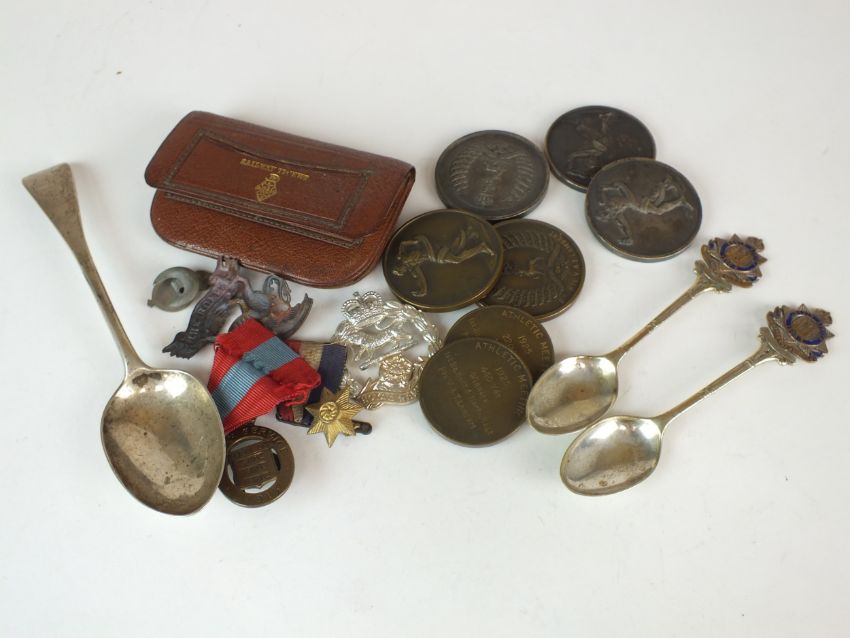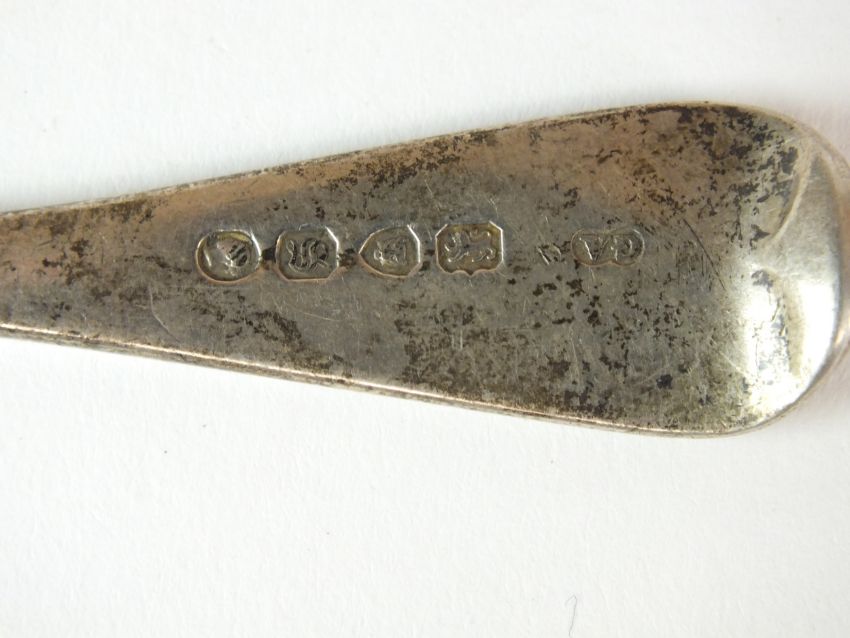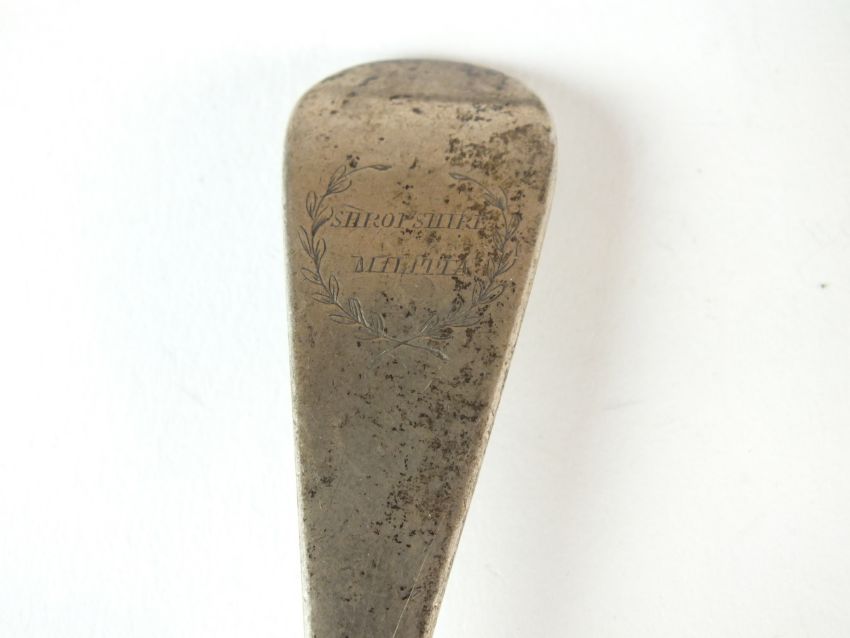 Please confirm purchase
You are about to buy this lot for
0
GBP
Bids do not include VAT, buyer's premium or delivery.
Clicking the confirm button is legally binding obligation to buy and pay for the lot should your bid be successful.
Proceed With Buy It Now?
We have noticed that your maximum bid is higher or equal to the buy it now price for this lot.
Would you like to discard your maximum bid and proceed with the buy it now option?
Timed auction
Lot location
Shrewsbury
A miscellaneous collection of militaria to include a Victorian silver Old English pattern dessert spoon, London 1853, engraved 'Shropshire Militia', two silver-plated teaspoons engraved "South Africa 1900-02 23rd Bn The London Regt", five assorted cap and collar badges, a morocco purse shooting prize dated 1862 and seven athletics bronze and white metal medals awarded to Pte Lambert Bedfordshire and Hertfordshire Regiment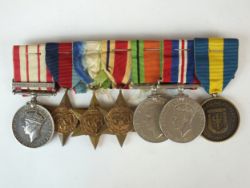 Venue address
Halls Holdings House
Bowmen Way
Shrewsbury
SY4 3DR
United Kingdom
Militaria - Timed Auction
Auction dates
Starts:
Jan 14, 2022 10:00 AM GMT
Ends from:
Feb 01, 2022 05:00 PM GMT
Viewing dates
Jan 27, 2022 10:00 AM - 02:00 PM GMT
Jan 28, 2022 10:00 AM - 02:00 PM GMT
| | |
| --- | --- |
| Auction currency | GBP |
| Accepted cards for registration | |
| Accepted cards for payment | |
Collection
At Halls we do not ship items. Some options for our customers include:
Local Couriers
For all other collection and delivery services, see our list below for local couriers.
Please contact them directly to receive a quote for costs. You are, of course, very welcome to use an alternative courier.
How quickly after the auction do I need to collect?
We request that you make full payment and arrange collection of your items within 7 days of the auction date.
How do I collect?
You can collect once payment has cleared, attend our offices to collect in person – simply produce a receipted invoice. If you are sending a courier to collect your item, please confirm to fineart@hallsgb.com the courier company name and the date that they will attend, please provide your courier with a copy of your receipted invoice in order that Halls Fine Art may release your items.
CONDITIONS OF SALE
1. Definitions. In these Conditions Halls Holdings Limited act only as auctioneers and agents for the seller and the representative of Halls Holdings Limited conducting the auction is called the "Auctioneer".
2. General. Whilst Halls Holdings Limited make every effort to ensure the accuracy of their catalogues and the description of any lot:-
(a) Each lot as set out in the catalogue or as divided or combined with any other lot or lots sold by the seller with all faults, imperfections and errors of description.
(b) Halls Holdings Limited do not accept responsibility for the authenticity, attribution, genuineness, origin, authorship, date, age, period, condition or quality of any lot unless they have been instructed in writing by the seller to so certify, and in such case the auctioneers do so as agents of the seller and are not themselves responsible for such claims.
(c) All statements whether printed in the catalogue or made orally as to any of the matters set out in (b) above are statements of opinion only and are not to be taken as being or implying any warranties or representations of fact by Halls Holdings Limited unless they have been instructed in writing by the seller to so certify.
(d) Any claim under any Statute must be received in writing by the Auctioneers within ten days of the day of the sale.
3. The Auction: (a) The Auctioneer has absolute discretion to divide any lot, to combine any two or more lots or withdraw any lot or lots from the sale, to refuse bids, regulate bidding or cancel the sale without in any case giving any reason or without previous notice. He may bid on behalf of the seller for all goods which are being offered subject to reserve or at the auctioneer's discretion.
(b) The highest bidder shall be the buyer except in the case of a dispute. The Auctioneer may at his sole discretion determine the advance of bidding or refuse a bid. If during the auction the Auctioneer considers that a dispute has arisen, he has absolute discretion to settle it or to reoffer the lot.
(c) Each lot is put up for sale subject to any reserve price placed by the seller. Where no reserve has been placed (but not otherwise) the seller has the right to bid either personally or by any one person on his behalf (who may be the Auctioneer).
(d) All conditions, notices, descriptions, statements and other matters in the catalogue and elsewhere concerning any lot are subject to any statements modifying or affecting the same made by the Auctioneer from the rostrum prior to any bid being accepted for the lot.
4. Rescission. Notwithstanding any other terms of these Conditions, if within fourteen days after the sale Halls Holdings Limited have received from the buyer of any lot notice in writing that in his view the lot is a deliberate forgery and within twenty-one days after such notification the buyer returns the same to Halls Holdings Limited in the same condition as at the time of sale and by producing evidence, the burden of proof to be upon the buyer, satisfies Halls Holdings Limited that considered in the light of the entry in the catalogue the lot is a deliberate forgery then the sale of the lot will be rescinded and the purchase price of the same refunded. The seller and the buyer agree to be bound by Halls Holdings Limited's decision.
5. Default. Halls Holdings Limited disclaim responsibility for default by either the buyer or the seller because they act as agents for the seller only and therefore do not pay out to the seller until payment is received from the buyer. Instructions given by telephone are accepted at the sender's risk and must be confirmed in writing forthwith.
6. In the event of a sale by private treaty both the seller and the buyer agree to be bound by the General and any Special Conditions of Sale.
7. Third Party Liability. Every person on Halls Holdings Limited's premises at any time shall be deemed to be there at his own risk. He shall have no claim against Halls Holdings Limited in respect of any accident which may occur or injury, damage or loss howsoever caused, save in so far as the injury, damage or loss shall be caused by the direct negligence of Halls Holdings Limited's employees.
CONDITIONS OF SALE APPLICABLE TO BUYERS
8. Inspection. Opportunity is given for inspection and each buyer by making a bid for a lot acknowledges that he has satisfied himself fully before bidding by inspection or otherwise to all the Sale Conditions, the physical condition of and description of the lot including but not restricted to whether the lot is damaged or has been repaired or restored.
We do not state condition in the lot description – Before bidding please ensure you are satisfied with the condition of the lot – For details of condition please contact the auctioneer.
9. Property and Risk. The legal title in a lot shall not pass to the buyer until the lot(s) has been paid for in full and the Auctioneers shall be entitled to a lien on any lot sold until the purchase price (as defined in 10 below) is paid in full but each lot is at the sole risk of the buyer from the fall of the hammer. Each buyer shall forthwith give his full names and permanent address and if called upon to do so by the Auctioneer shall forthwith pay Halls Holdings Limited such proportion of the purchase price as the Auctioneer may require. If the buyer fails to do so, the lot may at the auctioneer's sole direction be put up again and re-sold.
10. Every bidder shall be deemed to act as principal unless there is in force a written acknowledgement by Halls Holdings Limited that he acts as agent on behalf of a named principal.
11. Removal of Goods.
(a) No purchase shall be claimed or removed until the sale has been concluded. All lots shall be paid for and removed at the buyer's risk and expense by the end of the second working day after the sale, failing which the Auctioneer shall not be responsible if the same are lost, stolen, damaged or destroyed, and all lots not so removed shall remain at the risk of the buyer and subject to a warehousing charge. If they are not paid for and removed within seven days of the sale the Auctioneer may re-sell them by auction or privately without notice to the buyer. Any liability which there may be on the part of the Auctioneer in respect of any loss shall be restricted to a maximum of the price paid by the buyer of the lot.
(b) In the event of any failure of the buyer to comply with any of the above conditions the damages recoverable by the seller or the Auctioneers from the defaulter shall include any loss arising on any re-sale of the lots, together with the charges and expenses in respect of both sales, and together with interest at 2% above Handelsbanken Base Rate upon the price of any lot which has not been paid for within forty-eight hours of the sale, and any money deposited in part payment shall be held by the Auctioneers on account of any liability of the defaulter to them or to the seller. We accept cash up to €10,000, debit cards, bank transfers and personal cheques. We apologise we do not accept credit cards. Cheques drawn by third parties, whether in the auctioneer's favour or requiring endorsement, cannot be accepted.
12. Purchase Price. The buyer shall pay the hammer price together with a premium at the stated rates on the hammer price of 20%. Under the Auctioneers' Margin Scheme operated by HM Customs & Excise, the premium does attract VAT as an addition to the stated premium rate.
13. Commission to Bid. Halls Holdings Limited will execute bids on behalf of intending buyers unable to attend the sale at no charge. Halls Holdings Limited undertake to purchase lots as cheaply as allowed by other bids and reserves. Bids must be submitted in writing and whilst every care is taken in carrying out instructions Halls Holdings Limited cannot be held responsible for errors or omissions made in carrying out such bids.
14. Lots on which Value Added Tax is payable on or included in the hammer price are indicated in the catalogue or description sheet with a sign. VAT is payable on or included in the hammer price of such lots at the rates prevailing on the day of the auction
CONDITIONS OF SALE APPLICABLE TO SELLERS
15. The seller authorises Halls Holdings Limited to deduct commission at the published rate and to retain the buyer's premium of 20% plus VAT. The seller agrees to pay all special advertising charges and illustration charges (see 24) insomuch that they are reasonable. Scale of Commission - Halls Business tariff card available at all Halls offices and salerooms on request.
16. Value Added Tax. A seller who sends for sale by auction any chattel(s) which is an asset of his business must disclose to the Auctioneer whether or not he is a registered person for Value Added Tax purposes and, if so, his registered number and whether or not he intends to operate the Dealer Margin Scheme covering works of art, etc. This information must be supplied to the Auctioneer on or prior to delivery of the goods.
17. Instructions. All goods delivered to the Auctioneers' premises will be deemed to be delivered for Sale by Auction and will be catalogued and sold accordingly unless special instructions are recorded on the receipt.
18. Reserves. Halls Holdings Limited will be pleased to advise on suitable protective reserves but if no reserves have been received prior to the day of the Sale, the lot will be sold without reserve or at the discretion of the Auctioneer. Reserves must be confirmed in writing or notified on the receipt at the time of delivery.
19. Indemnity. Vendors shall indemnify Halls Holdings Limited against any claims in connection with goods sold by Halls on the vendor's behalf.
20. Collections. The Auctioneers do not themselves undertake the collection of goods but acting expressly as Agents, they will if required, instruct or recommend a carrier on the vendor's behalf for which there will be a charge.
21. Withdrawals. Where a seller cancels instructions for sale, or where a lot is withdrawn for any reason other than misattribution or authenticity, Halls Holdings Limited reserves the right to charge a fee equal to 10% plus VAT of the reserve price of the lot, or where no reserve has been fixed, Halls' lower estimate of the item(s) withdrawn, together with any expenses incurred in relation to the item(s) withdrawn.
22. Insurance. Halls Holdings Limited are not regulated by the FSA for the provision of insurance to its clients. However, Halls Holidngs Limited, for its own protection insures property consigned to it at mid pre-sale estimate, unless the item has been sold, in which instance property is insured at the hammer price for loss, occasioned as a result of theft, fire or negligence whilst in their custody or control.
23. Warranty of Title. The seller warrants to Halls Holdings Limited and to the buyer that he is the true owner of the property or is properly authorised to sell the property by the true owner and is able to transfer good and marketable title to the property free from any third party claims.
24. Photography. Vendors give Halls Holdings Limited the right to photograph and illustrate and promote any lot placed with them for sale and to use such photographs and illustrations at any time at their discretion, whether or not in connection with the auction.
25. Electrical and Mechanical Goods. The seller and consignor of electrical or mechanical goods warrants and undertakes to Halls Holdings Limited that on the date received by Halls that the same are safe if reasonably used for the purpose for which they were designed and free from any defect not obvious on external inspection which could prove dangerous to human life or health, and will indemnify Halls its servants and agents against any loss or damage suffered by any breach of the above warranty.
26. Agency. The Auctioneers act throughout as Agents only and are not responsible for any default by the buyer. Halls Holdings Limited disclaim liability for paying the vendor until they have received settlement from the purchaser.
27. Warehousing. The Auctioneers exempt themselves from any liability to goods delivered to their salerooms without sufficient sale instructions, and reserve the right to make a warehousing charge in this respect. A similar warehousing charge will be applicable for goods left on their premises after they have requested the vendor to remove them.
28. Unsold Goods. Unsold goods must be collected if they are not to be re-offered within 14 days following receipt of any after sale advice slip. Halls Holdings Limited reserve the right to sell by auction on behalf of the vendor without reserve any items after this period.
29. Important Notice. Any monies held on your behalf will be held in a Clients Bank Account at the Handelsbanken, Shrewsbury and will be protected by the FSA. Furthermore for your protection, Halls adhere to the Clients Monies rules of the RICS. Any incidental interest earned on such monies will be retained by Halls as part of their terms of engagements, and by instructing Halls to act on your behalf, you are agreeing to and endorsing that course of action.RICS operates a Clients' Money Protection Scheme (CMPS). This scheme, of last resort, covers direct loss of clients' money as a result of misappropriation (or equivalent) by a RICS Regulated Firm, up to a £50,000 limit. The CMPS nor Halls will provide protection for the failure of a bank. But protection for bank failure is provided by The Financial Services Compensation Scheme up to a £50,000 limit.A copy of Halls complaints procedure is on display at all Halls offices, and a copy will be made available to you on request.
30. Online Bidding
Halls Holdings Limited offer an online bidding service via the-saleroom.com for bidders who cannot attend the sale.
In completing the bidder registration on www.the-saleroom.com and providing your card details and unless alternative arrangements are agreed with Halls Holdings Limited you:
1. authorise Halls Holdings Limited, if they so wish, to charge the card given in part or full payment, including all fees, for items successfully purchased in the auction via the-saleroom.com, WE DO NOT ACCEPT CREDIT CARDS and
2. confirm that you are authorised to provide these card details to Halls Holdings Limited through www.the-saleroom.com.
Please note that any lots purchased via Halls Fine Art's live auction service will be subject to an additional 3% commission charge + VAT at the rate imposed on the hammer price
Please note that any lots purchased via the-saleroom.com live auction service will be subject to an additional 5% commission charge + VAT at the rate imposed on the hammer price
HALLS HOLDINGS LIMITED Company Registration Number: 06597073 Vat Registration Number: 549 7365 94
**TO ALL PROSPECTIVE REGISTRANTS AT HALLS FINE ART AUCTIONEERS**
Please note the auction will end at 5pm on 1st February 2022 but any bids placed within the last 10 minutes will automatically reopen the lot for a further 10 minutes. This 10 minute extension will continue to be instigated until the final bid.
Whilst some notes on condition are given in the lot description the absence of such information does not guarantee the item as perfect.
WE DO NOT STATE CONDITION IN THE LOT DESCRIPTION
Before bidding please ensure you are satisfied with the condition of the lot, all objects are offered in as found condition.
Bidding indicates acceptance of condition of the lot.
*All lots are sold subject to general wear and tear commensurate with age and handling over time.
PLEASE REGISTER IN GOOD TIME FOR THE AUCTION
Please register 48 hours or more before the end of the auction. Registration on the last day of sale cannot be guaranteed.
BUYERS PREMIUM
27.6%
For invoices over £1000 a 20% deposit or £1000 (whichever is applicable)will be taken the day following the auction
For all invoices under £1000 full payment will be taken seven days after the auction
*Goods will be released once payment has cleared
SHIPPING
If you are not able to collect in person Halls are happy to suggest a number of local carriers who will be able to arrange packing and shipping for you.
Collection or shipping arrangements for lots can be made from midday on the next working day after the auction.
Halls Fine Art are a small team so unfortunately has neither the staff, nor the facilities to provide a comprehensive packaging service, meeting buyer's or carriers' various stipulations regarding box sizes and materials. Consequently, Halls cannot package items for collection by third parties.
Buyers that engage the services of companies that do not fulfill these criteria will be asked to email or write to Halls stating that they, the client, do so entirely at their own risk and take full responsibility for their choice.
LOCAL COURIERS
For all other collection and delivery services, see our list below for local couriers.
Please contact them directly to receive a quote for costs. You are, of course, very welcome to use an alternative courier.

If you need any further assistance please don't hesitate to call us on 01743 450 700 or email fineart@hallsgb.com